Introducing:



Glimpsing Resurrection: Cancer, Trauma, and Ministry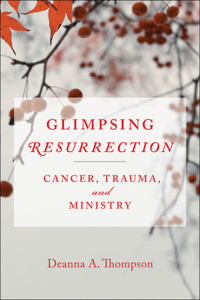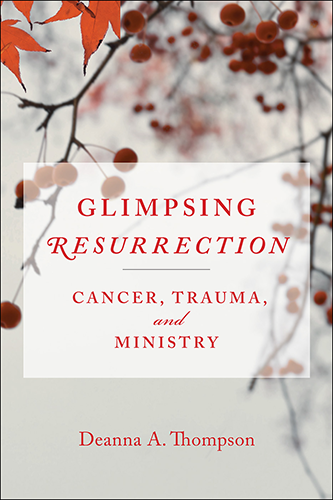 In Glimpsing Resurrection, Deanna A. Thompson combines recent trauma research with compelling first-person narrative to provide insight into the traumatic dimensions of living with a serious illness. Her aim is to help those who are ill and those who care for and minister to them deepen their understanding of how best to offer support.
"The tendency for Christians to move almost immediately from death to proclamations of new life risks alienating those for whom healing and new life seem out of reach," says Thompson. Glimpsing Resurrection focuses less on the "why" to help readers instead come to terms with the "how" of living with a serious disease. In particular, Thompson provides a framework and concrete suggestions for how to be a church where those who are undone by illness can be undone, as well as a place that can love and support them to hope.
"Finding space within the psalms, the story of Job, Jesus' cry of God-forsakenness on the cross, and even Christ's descent into hell helps us imagine how Christian communities can be spacious enough to acknowledge and hold those who are undone by illness," Thompson says. "Only then does it become possible to identify the hope that can emerge from our not-yet-resurrection reality to imagine more in life today as well as in the life to come."

After twenty-three years of teaching religion at Hamline University, a wonderful liberal arts institution in St. Paul, Minnesota, I've been called back to my alma mater, St. Olaf College, to serve as the inaugural Director of the Lutheran Center for Faith, Values, and Community and the Martin E. Marty Regents Chair in Religion and the Academy.
It's with great excitement that I rejoin the St. Olaf community as it strives to embody its Lutheran heritage in a way that is intentionally and enthusiastically interfaith as well as engaged with those of no faith. I'm thrilled and grateful to be able to embrace this new vocational direction and look forward to this new phase of life that is grounded and supported by all that's come before.
Deanna A. Thompson
is an author, speaker, and Director of the Lutheran Center for Faith, Values, and Community and Martin E. Marty Regents Chair of Religion and the Academy at St. Olaf College in Northfield, Minnesota. Thompson's writing and speaking covers on topics ranging from Martin Luther and feminism, Scriptural interpretation (Deuteronomy in particular), cancer and faith, and being the church in the digital age. When she's not writing, speaking, or teaching, Thompson can be found hiking in a national park with her husband and two children.