By the time I was diagnosed with metastatic cancer in December 2008, the cancer had spread from breast to bones, fracturing two vertebrae and camping out in my pelvis and hips. Intense treatment regimen made me even sicker, forcing a trip to the ER and a New Year's Eve in the hospital talking with my husband about where I would be buried.
While family and friends immediately located statistics on my prognosis, it took being weaned off oxycodone before it occurred to me to find what others had found: the pronouncement that five years out, eight percent of people who have the cancer I have are dead.
As a religion professor, I get paid to talk about God. But being diagnosed with stage IV cancer left me without words for (or directed toward) God, without words for what it might mean to live with or in spite of incurable cancer.
Effects of treatment and back surgery made death's nearness seem even nearer. I struggled to get out of bed and dress myself; I couldn't drive to and from the mountains of appointments. I resigned from virtually every part of my full and wonderful life.
When I cried my way through an entire appointment, the oncologist referred me to a cancer counselor. The counselor encouraged me to write letters to my daughters for them to open on their graduations, wedding days, expressing how much I wish I could be there to celebrate their special day.
But as winter turned to spring, the pain from back surgery receded enough for me to take off the Fentanyl patch and start physical therapy. I started driving again and even made a couple meals each week.
After months of being overwhelmed by the incurable status of my cancerous life and fearing the end was near, I went into remission, a lovely, disorienting, state of being.
Friends and family through me the party of a lifetime, and I interpreted my cancer story in light of the dominant version of the Christian story I know so well:
And in this feasting amid the crying and the grieving, my life mapped the movement of the Christian gospel story in a way I never imagined it could: I have experienced firsthand a death and a resurrection. I have witnessed new life growing out of the ashes of death and destruction. It doesn't get more Christian than that.
For months following my diagnosis it looked likely that this cancer story would swallow me whole. When it didn't, it was the Christian story that helped make sense of what had happened. Dawn had come. I had been given new life.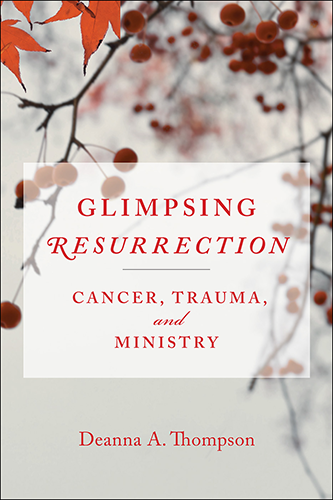 In the past nine years I have lost and found remission not once, but three times. And while any day with remission is better than any day without it, there are lots of days when the death-to-new-life storyline seems too constrained to hold the frayed edges of life with cancer.
From the earliest days of my cancer story, the diagnosis-treatment-survivorship plotline has seemed too streamlined, too linear, to allow enough space for the incurable version I'm living. The fickle status of remission, ongoing oncology visits and chemo treatments leaves me searching for bigger versions of the stories that interpret my life.
While our tellings of the Christian story bend toward resolution, the plots of our own lives tend to stubbornly resist it. One insight from the field of trauma studies is that living in the aftermath of traumatic events requires attending to ways traumatic after effects interrupt life in the present. Emerging research on illness-related trauma can contribute to a more complicated telling of the Christian story that makes more space for those traumatized by serious illness.
My new book, Glimpsing Resurrection, explores what it's like to become undone by cancer and how the lens of trauma enables us to better understand the long-lasting emotional, psychological, and spiritual effects of illness. Paying closer attention to places of lament and irresolution in the biblical narrative helps create a spaciousness that can hold our undoneness. The language of trauma and the practice of lament equip us to better minister to those who live with serious illness, and when the trauma of illness is acknowledged and addressed, it becomes possible, even when illness remains, to glimpse resurrection, both here and now and in the life to come.
#GlimpsingResurrection #WJKbooks